'COVID-19 and the future of development cooperation' webinar (July 21, 2021)
Published:
Wednesday, July 7, 2021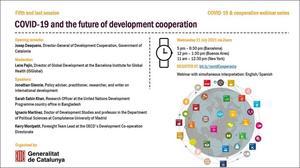 The COVID-19 and the future of development cooperation' webinar is the last one of the series 'COVID-19 and cooperation'.
Date: Wednesday 21 July 2021
Time: 5 – 6:30 pm (CET) / 11 am – 12:30 pm (New York)
Place: Zoom
REGISTER HERE
The event will provide simultaneous interpretation. For this feature to be enabled, please make sure you have the Zoom app downloaded on your computer.
The webinar will discuss:
- How development cooperation has responded to the pandemic
- What changes are needed in this public policy to address the crisis of the global development model
- How to overcome the outdated dichotomy North-South in favour of a vision of global challenges and shared responsibilities
You can check out the speakers on the attached flyer.
The current crisis is expected to have a far-reaching and long-term humanitarian and socioeconomic impact. However, we have the opportunity to rethink and reformulate norms and policies for a social and economic recovery with a human rights-based approach to build a greener, healthier and more equitable world that leaves no one behind.
With the aim of facilitating a debate on these issues and making proposals for development cooperation policies to strengthen international cooperation, the Government of Catalonia, through the Directorate General for Development Cooperation, is organizing this webinar.