7 PhD positions in Regional Science & Economic Geography at the Gran Sasso Science Institute (Italy)
Published:
Tuesday, March 23, 2021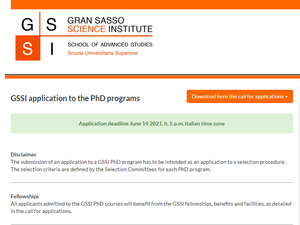 The Gran Sasso Science Institute, a recently established public university dedicated to doctoral education in L'Aquila, Italy, has just advertised 7 positions in its English-taught PhD programme in Regional Science & Economic Geography.
The aim of the PhD in Regional Science and Economic Geography is to address issues related to local and regional development. The methodological perspective of research and teaching is multidisciplinary, combining regional and urban economics, economic and human geography, spatial planning and sociology.
Please note that the programme offers training in both quantitative and qualitative research methods, thus enabling students to move beyond dualistic understandings (quantitative vs. qualitative) of economic geography and regional studies.
* Critical geographers are encouraged to apply *
The PhD Programme lasts four years. The Academic Year will start on November 1st 2021. GSSI awards scholarships until the thesis dissertation and for a maximum of four years. The yearly gross amount of the scholarship is € 16.159,91. An additional 50% on a monthly basis may be awarded for research period abroad if approved by the GSSI.
Deadline for applications is 14 June 2021.
L'Aquila is a historical town in central Italy, surrounded by mountains in a largely unspoiled natural environment. It is the capital city of the Abruzzo region.
All details related to this call can be found here.