MOOC "Circular Business Models for Sustainable Urban Food Systems"
Published:
Tuesday, October 27, 2020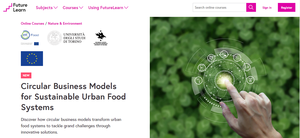 A research group from the University of Turin has developed a Massive Online Open Course (MOOC) in collaboration with the University of Helsinki, Too Good to Go, and Agricolus. This project is supported by EIT Food, the European Institute of Innovation and Technology focused on Food.
Our MOOC is a four-week online course which will launch on November 2nd, 2020 on the 'FutureLearn' platform. It is titled "Circular Business Models for Urban Food Systems" and it deals with policies, business models, and tools to encourage the transition towards a Circular Economy in Cities and Regions. The MOOC specifically focuses on the synergies between urban ecosystems and the agri-food sector, and views the city - and all its stakeholders - as key players in the transition toward circular food practices. For a quick glance, we have attached a more detailed Course Guide.
Paola De Bernardi, Simona Grande, Giacomo Pettenati, Egidio Dansero