Webinar "The contribution of Cultural Heritage to sustainable development in the MENA area" (October 1, 2020)
Published:
Wednesday, September 16, 2020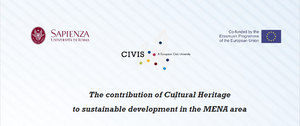 The webinar will discuss strategies toward the preservation and promotion of Cultural Heritage in the MENA area in a situation of political crisis likely to be made worse by the present COVID19 emergency.
Main themes to be addressed:
Cultural Heritage Preservation: A European Model;
Cultural Heritage and Scientific Diplomacy;
Local Tourism as local engine to sustainable development.
Cultural heritage — both tangible and intangible — and creativity are resources that need to be protected and carefully managed. They can serve both as drivers for achieving the SDGs as well as en-ablers, when culture-forward solutions can ensure the success of in-terventions to achieve the SDGs.
Program attached.