Research seminar: Sallie Yea, "Ports, Deportation and the Uneasy Politics of Human Trafficking" (April 12)
Published:
Wednesday, April 7, 2021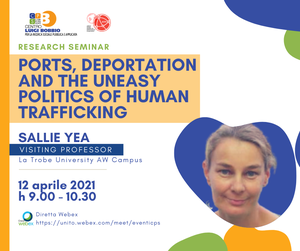 RESEARCH SEMINAR
PORTS, DEPORTATION AND THE UNEASY POLITICS OF HUMAN TRAFFICKING
VISITING PROFESSOR
SALLIE YEA
La Trobe University AW Campus
Webex: https://unito.webex.com/meet/eventicps
April 12, 2021
h 9.00 - 10.30
In the contemporary era illegitimate and unwelcome forms of transnational mobility are increasingly met by receiving states with exclusionary practices centred on deflection and removal. Central to this goal is the state practice of creating exceptions and remaking legal territory in order to circumvent (human rights) obligations under international law. Much of the existing literature examining this process focuses on securitisation of asylum seekers (for example, Mountz 2008). In contrast, this paper examines how states attempt to remove human trafficking responsibilities from their jurisdiction, focusing specifically on the securitisation of ports. Ports occupy a somewhat ambiguous space in terms of international law and jurisdiction. While they are classified as part of a state's internal waters under international maritime law and subject to territorial sovereignty, they are also subject to 'jurisdictional exceptionalism', which I define as 'practices that invoke particular demarcations of sovereignty to avoid protection responsibilities'.