"ICT for Development and Social Good"
Published:
Monday, June 7, 2021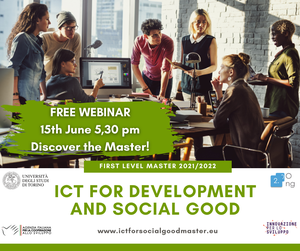 "ICT for Development and Social Good"
Discover the 4th edition of the First Level Master "ICT for Development and Social Good", the first Master in Italy providing theoretical and practical proficiency concerning the deployment of Information and Communication Technologies (ICT) tools for international development and social good.
TUESDAY 15th JUNE, 5,30 pm
Guest Speakers:
Prof. Egidio Dansero, Full professor at the University of Turin, Master Director
Silvia Pochettino, Founder Ong 2.0, Master Coordinator
Cristina Toscano, Innovazione per lo Sviluppo Program, Master Donor
Prof. Elisa Bignante, full professor at Univ. of Turin, member of Master Scientific Committee
Georges L. J. Labreche, European Space Agency (ESA), Lecturer in the Master
Ron Salaj, Ong 2.0, Master Tutor
Arianna Carbone, Master Alumni (testimony)
Join our informational webinar to explore more the master programme:
https://bit.ly/3fPotVJ
International agencies and non-profit organizations are increasingly looking for project managers and development professionals who have excellent capabilities on the use of digital technologies for social good. By developing solid knowledge in the effective planning, development, implementation and management of ICT4D initiatives in many different sectors, such as Data Collection and Visualisation, Health, Agriculture, Environment, Human Rights, Emergencies and Civic Engagement you will gain a professional profile that corresponds to the labor market demands.
FOR MORE INFORMATION PLEASE VISIT
www.ictforsocialgoodmaster.eu
ENROLMENTS WILL OPEN AT THE END OF JUNE 2021