ISMEL -- Labour Week_ 21-26 March 2022
Published:
Thursday, March 17, 2022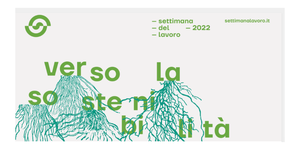 One week of events, seminars and lectures focusing on the "Ecological Transition":
- Transition
- Labour
- Development
Organised by ISMEL - Istituto per la Memoria e la Cultura del Lavoro dell'Impresa e dei Diritti Sociali
[In Italian]
La transizione ecologica, da utopia promossa dai movimenti ecologisti e ambientalisti, diventa riferimento fondamentale delle politiche degli stati per effetto dei cambiamenti in atto nel Sistema Terra. È la condizione essenziale per la continuità dell'antropocene. Vanno esplorate con coraggio le vie per coniugare il benessere economico e sociale e la sua diffusione con la salvaguardia dell'ambiente.
In Piemonte oltre 40mila aziende dal 2016 hanno investito in tecnologie e prodotti a basso impatto, e nel 2020 il 15% degli occupati ha svolto un green job. Questi nuovi lavori stanno, sia pur lentamente, crescendo e nei prossimi quattro anni le competenze green saranno richieste nel 38% dei casi.
È possibile mantenere un livello desiderabile di occupazione stabile e di sviluppo economico-sociale salvaguardando l'ambiente? Quali investimenti sono necessari per creare nuove opportunità di lavoro e per ripensare quelli tradizionali? Quale cultura del lavoro e della solidarietà è necessaria per uscire dalla crisi ecologica? Quali livelli di governance sono richiesti?
Affrontare un problema come il cambiamento climatico richiede una collaborazione senza precedenti tra nuovi saperi e lavoro. Tale sfida esige che si creino nuovi consumi, nuovi modi di produrre, nuove tecnologie, nuove culture, nuovi modi di organizzare il mondo. La Settimana del Lavoro 2022 è un passo verso la sostenibilità.
See the full programme