Coronavirus (COVID-19): update for UniTo community
Published:
Tuesday, February 25, 2020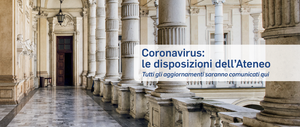 Please note: all information and updates on the development of the current situation will be published at https://en.unito.it/news/coronavirus-covid-19-update-unito-community as soon as they become available. Visit this page on a regular basis.
The University of Turin is monitoring the situation on the Coronavirus outbreak closely and is in regular contact with national, regional and local authorities to provide the adequate precautionary measures for UniTo community.