"Feneen" (a documentary made in the context of "MIGRA: Migrations, Employment, Youth, Resilience, Self-enterprise"), Sunday, March 20
Published:
Sunday, March 13, 2022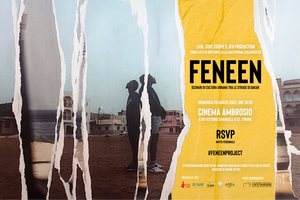 Feneen is a journey into the contemporary Senegalese urban musical reality. A story born from the meeting between the Italian producer Frank Sativa and rappers Leuz Diwane G , Senegalese, and FULA , Italian-Senegalese, which gave life to the genesis of a song, a video clip and a documentary of the same name that will be presented to the public at the end of 2021.
It is an initiative born in the context of MIGRA - Migration, Employment, Youth, Resilience, Self-enterprise - a project conceived and promoted by LVIA, COSPE, CISV together with the local partners AD and CARP, with the contribution of the Italian Agency for Development Cooperation - and carried out with the precious collaboration of the Hiroshima Mon Amour Cultural Association, Concertielementi and the Multiethnicmedia Cultural Association .
In Feneen, music becomes a metaphor for the way in which in Africa, and in Senegal in particular, things are done despite the lack of means, sometimes precisely because of that lack, and often to make up for it.
The song and its video clip are the synthesis of the artistic and personal intertwining of the three musicians. Sung in 4 languages ​​(English, Wolof, Italian, French), it is dedicated to the theme of "elsewhere" (feneen in Wolof). It speaks of borders, internal and external, of mixed and contaminated identities, of the continuous search for one's place in the world, in a land near or far.
The documentary - written by Jennifer Caodaglio , directed by Giulia Rosco and born from an idea of ​​Frank Sativa - explores the current music and urban scene of Dakar. 60 minutes of images and interviews with Senegalese producers, rappers, writers and entrepreneurs for a complex and unexpected portrait of the strong and thriving urban cultural movement of the city, an essential context for the development of a critical and conscious civic awareness among young people, but also extremely fertile ground for concrete employment opportunities within a nascent industry.
Projection
SUNDAY 20 MARCH, 4pm
Cinema Ambrosio - Corso Vittorio Emanuele II 52, Torino